CAREER CHANGE SCHOOL FOR ADULTS
9855
Graduates
More than 9000 graduates have already graduated from our schools.
217
Corporate partners
Vilnius Coding School cooperates with more than 200 companies with TECH or IT departments.
74
Lecturers
Lecturers are professional programmers working in IT companies with many years of experience.
"Vilnius Coding School" is an international technology career and programming school for adults.
Contact:
[email protected]

+370 606 75071
Calendar of trainings and events

Training
There are no classes starting on this day
Events
There are no events on this day
September 21
Why choose

Vilnius Coding School?
Studies
with the Lecturer
1:1 studies with a lecturer is an individual, personalized IT training program, the main goal of which is to employ a person in the tech sector. Two people participate in the training - a student and a lecturer, who gives all his personal attention to only one person during the lectures. We are convinced that this type of training generates excellent results in the process of personal development.
The Vilnius Coding School school network consists of branches in Lithuania, Latvia, Ireland and the Czech Republic, and a total of 6 programming schools are managed. We can offer training in four different languages, the main one of which is English.
Registration
for consultation
Not sure which training program is right for you or which programming language to choose? We invite you to a free personal consultation!
The career center is a unique place where school alumni are helped to enter the IT market and establish themselves in it after training. During career consultations, qualified specialists help you assess your abilities, prepare a CV and LinkedIn profile, and simulate a job interview.
01
Training
Learns the chosen language/tool
02
Project
The final project is being prepared
03
Evaluation
Final evaluation of the lecturer
and recommendation
04
Career Center
Career center consultation, CV preparation
05
Job search
Inclusion in the base of active job seekers
06
Recommendation
Recommendation for partner companies
Employment

success stories
Every week we share a new story of a graduate of our school who got a job (or got an internship)!
Vilnius

coding

School CERTIFICATE
strong evidence that you are ready career ITEM!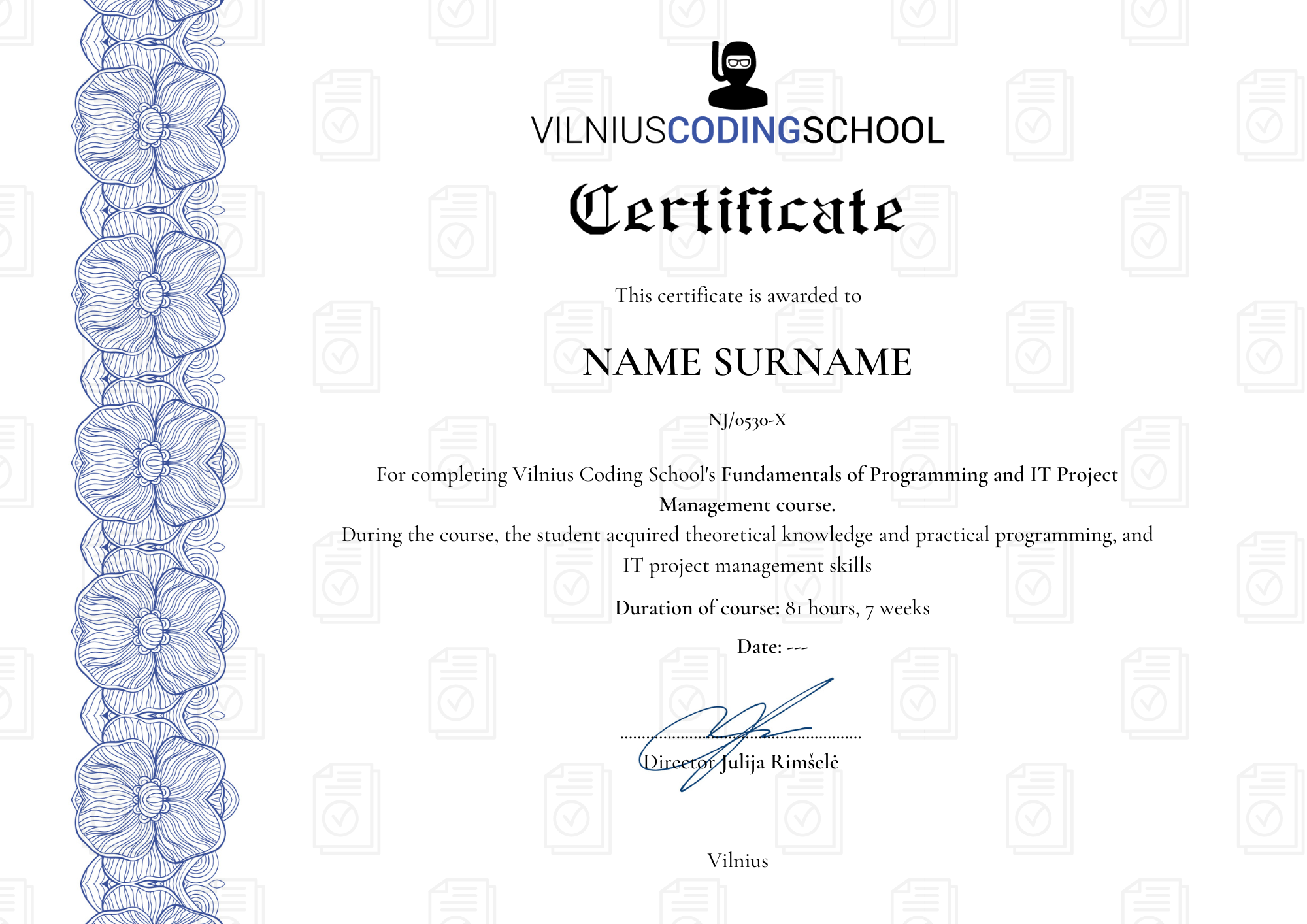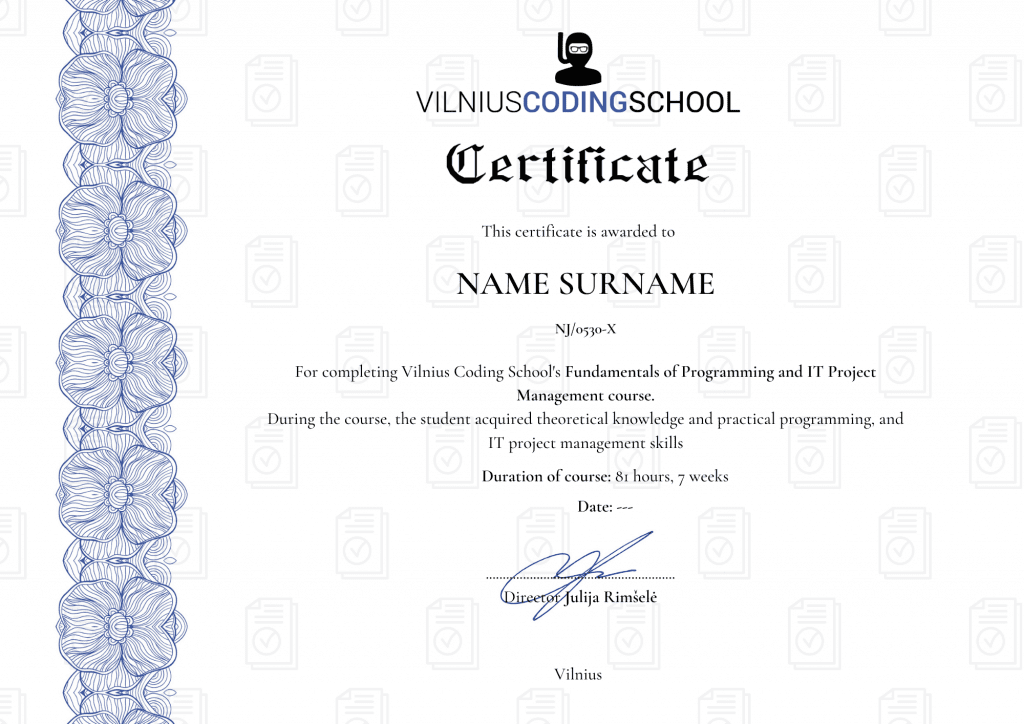 Official certificate approved by the Education and Science Register
Recognized by the strongest Lithuanian and international companies
It proves that you have studied with the best specialists in your field
Reliable proof of acquired skills
Certificate issued by a company developing transparent activities in Lithuania
This certificate confirms that you attended at least 95% of the course lectures in real time with the lecturer, completed and defended the final thesis
More than

200 corporate partners
Latest training, career opportunities, job offers and latest IT trends e-mail. by post